Providing hospitality for more than 125 years
The Manuelina's history is a tale of family, tradition, food and hospitality; these are values
which have always been important to us and which we have always promoted. From this
we have created our own, unique brand which includes the Restaurant, the Focacceria, the
La Villa hotel, the Feste&Ricevimentia banqueting and catering service and the Store. This any stay at Manuelina's is a real sensory delight.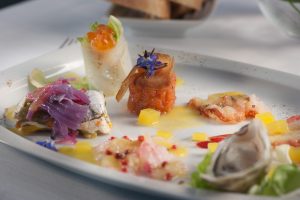 During your stay at the La Villa hotel you will be able to try the culinary creations prepared for you by the Manuelina Restaurant's expert chefs.
They carefully select the best ingredients every day to prepare sophisticated dishes, skilfully combining high quality, fresh ingredients with traditional Ligurian produce to achieve a harmonious balance of flavours: you will be presented with a sensory experience which combines the tastes of the sea and the land.
Freshly caught fish and newly harvested vegetables add to the appeal of our cuisine providing the inspiration for new and memorable dishes.
All are as pleasing to the palate as they are to the eye, as in our kitchen creativity goes hand in hand with culinary appreciation.
Whilst staying at La Villa you may have lunch or dinner at the Manuelina Restaurant choosing "à la carte" from the menu, or you can book the Percorso Gourmet:
a promotional package which entitles you to an overnight stay for two in a "Superior" double room plus a dinner for two in the restaurant with the "Il mare in tavola" gastronomic menu