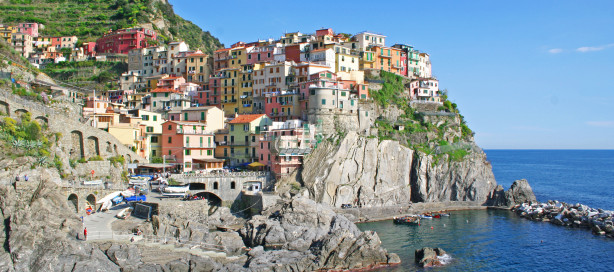 Manuelina La Villa, in the heart of Recco, is situated in an absolutely strategic area to reach places full of magic and charm on the Eastern Ligurian Riviera. We will be pleased to welcome you to this area with its aroma of myrtle and lemons, with its cliffs dotted with pine and olive trees that impertinently overlook the sea or that meet the blue from the villages, beaches and stunning bays.
And we will be happy to give you some advice to make the most of your stay at our hotel.
To start with, we suggest a boat trip around the Golfo Paradiso starting precisely from the port of Recco: via the beautiful Camogli with its pastel colours, you will be able to reach the beautiful village of San Fruttuoso, with its intimate pebble beach and its famous Abbey, a UNESCO World Heritage Site; the prestigious Portofino, where you will be able to have a coffee in the Piazzetta, feeling like a VIP of the 50's; or a vigorous walk in the green of the splendid Portofino Park, with its trails perched above the sea. From the boat you will be able to see the famous Cave of the Hermit, the Cala dell'Oro and, if you ere lucky, a group of dolphins, so numerous in our Ligurian Sea.
And if you feel like some unconventional adventure, you can try scuba diving and explore the Christ of the Abysses, the famous shrine submerged in the waters of San Fruttuoso.
For you who are a lover of hiking, we recommend, on the other hand, a walk around the villages of the Valfontanabuona, with their artisan tradition. From here it is also possible reach the summit of the Ramaceto, part of the itinerary of the'High Road of the Ligurian Mountains.
If you want to go further East, we suggest the delightful Santa Margherita Ligure, Lavagna and the not-to-be-missed Cinque Terre: you can easily reach Monterosso from Recco in just over an hour by train, from whose windows you can enjoy the blue spectacle of the coast.
If, on the other hand, you miss the typical bustle of city life, we recommend that you go West to visit Genoa: a must for its timeless appeal, with its intriguing alleyways with their historic shops, the famous Aquarium, the numerous museums and the active cultural life. The train journey from Recco takes less than half an hour!
Have we aroused your curiosity? Click here to find out more about our EXPLORE ITINERARY!